Ascaso Espresso Machine: Steel DUO vs. Dream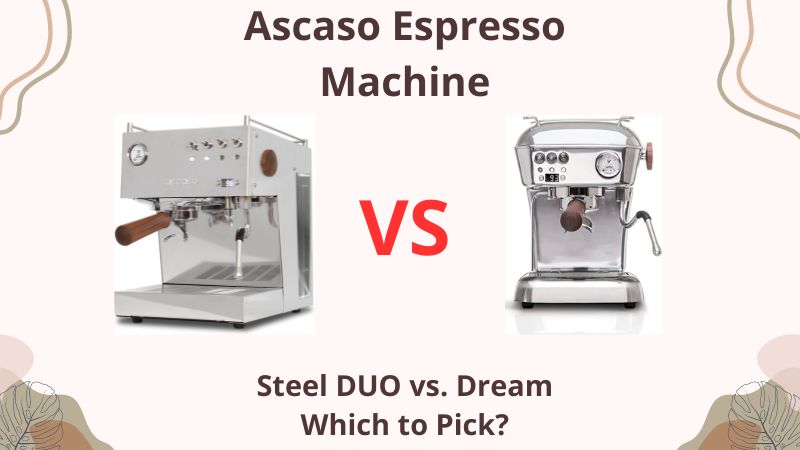 Choosing the perfect espresso machine for your home can be a daunting task. With so many options available, it's important to find a machine that suits your specific needs. In this blog post, we will compare two popular models from Ascaso – the Steel DUO and the Dream. By providing a detailed specs comparison, addressing frequently asked questions, and highlighting key factors to consider, we aim to assist you in making an informed decision about which Ascaso espresso machine is best suited for your home espresso brewing needs.
Ascaso Espresso Machine Spec Comparison 🆚
To help you understand the similarities and differences between the two main espresso machine models, we're going to run a comparison of the Ascaso Steel DUO and the Ascaso Dream. Let's dive into their specifications!
Dual Boiler vs. Single Boiler
Steel DUO: This Ascaso espresso machine model offers a dual boiler system, which allows for simultaneous brewing and steaming. It provides excellent temperature control and consistency.
Dream: The Dream, on the other hand, features a single boiler system that requires a brief wait time between brewing and steaming. While it offers slightly less convenience, it is still capable of producing excellent espresso.
Portafilter and Grinder Options
Steel DUO: The Steel DUO includes a commercial-grade, heavy-duty portafilter that accommodates ground coffee, espresso, and ESE pods. It also offers a built-in grinder for added convenience.
Dream: The Dream provides a standard portafilter for ground coffee. However, it lacks a built-in grinder, so a separate grinder will be needed for optimal results.
Temperature Control
Steel DUO: With its dual boiler system, the Steel DUO offers precise temperature control for both brewing and steaming, ensuring consistent extraction.
Dream: The Dream employs a PID temperature controller, which helps maintain a stable temperature during the brewing process, resulting in balanced flavors.
Ascaso Espresso Machine FAQs ❓
What is the brewing capacity of these machines?
The Steel DUO has a larger water reservoir and can brew more shots of espresso before requiring a refill compared to the Dream. However, both machines are designed for home use and can handle regular brewing demands.
Can I use pre-ground coffee with these machines?
Yes, both the Steel DUO and the Dream allow the use of pre-ground coffee. However, for the best results, using freshly ground coffee is highly recommended.
Are these machines easy to clean and maintain?
Both models feature removable parts for easy cleaning. Regular maintenance, such as backflushing the group head and descaling the boilers, is essential to ensure optimal performance and longevity.
Can I make milk-based drinks like lattes and cappuccinos with these machines?
Absolutely! Both the Steel DUO and the Dream come with a steam wand for frothing milk, enabling you to create delicious milk-based beverages.
Things to Consider with Ascaso espresso machines 🤔
When deciding which Ascaso espresso machine to buy, consider the following factors:
Budget
The Steel DUO is typically priced higher due to its advanced features. If you're on a tighter budget, the Dream offers excellent value for money without compromising on quality.
Brewing Preferences
If you frequently entertain guests or enjoy experimenting with different coffee flavors, the Steel DUO's dual boiler system may be a better fit. However, if you primarily focus on espresso shots and occasional milk-based drinks, the Dream can still deliver exceptional results.
Kitchen Space
Consider the available counter space in your kitchen. The compact size of the Dream makes it ideal for smaller kitchens, while the Steel DUO may require more room due to its dual boiler system.
Grinder Preference
If you already own a high-quality grinder or prefer to manually adjust the grind size, the Dream's lack of a built-in grinder may not be a significant drawback. However, if convenience is a top priority, the Steel DUO's built-in grinder can be a time-saving feature.
Where to Buy Ascaso Espresso Machines 🛒

The Ascaso Steel DUO PID is a high-quality espresso machine designed for coffee enthusiasts. Its compact and sleek stainless-steel body houses a powerful 1250W thermoblock boiler, ensuring quick heat-up times and stable temperature control. The machine features dual boilers, one for espresso brewing and the other for steam production, allowing simultaneous operations. The addition of a PID (Proportional-Integral-Derivative) controller ensures precise temperature management, guaranteeing optimal extraction for rich and flavorful espresso shots. With its user-friendly interface and professional-grade components, the Ascaso Steel DUO PID offers an exceptional brewing experience at home or in small cafes.
The Ascaso Dream PID Programmable Home Espresso Machine offers the perfect blend of style and functionality. With its elegant Walnut (Polished Aluminum) design, this 120V machine adds a touch of sophistication to any kitchen. Equipped with Volumetric Controls and a PID temperature controller, it ensures precise espresso extraction and customizable shot volumes. The Dream PID's user-friendly interface makes programming and operation a breeze, while its powerful performance delivers barista-quality coffee at home. Experience the joy of crafting your perfect espresso with this exceptional espresso machine from Ascaso.
Conclusion 🎉
Now's a great time to consider an Ascaso espresso machine for home espresso making. Choosing between the Ascaso Steel DUO and the Ascaso Dream ultimately depends on your individual needs and preferences. While the Steel DUO offers advanced features like dual boilers and a built-in grinder, the Dream provides exceptional espresso with its retro design and competitive price point. Consider factors such as budget, brewing preferences, kitchen space, and grinder preference to make an informed decision. Both machines are capable of delivering excellent espresso and will undoubtedly elevate your home brewing experience. If you're interested in a similar machine, check out the Laekerrt Espresso Machines.