Imusa Espresso Machine Review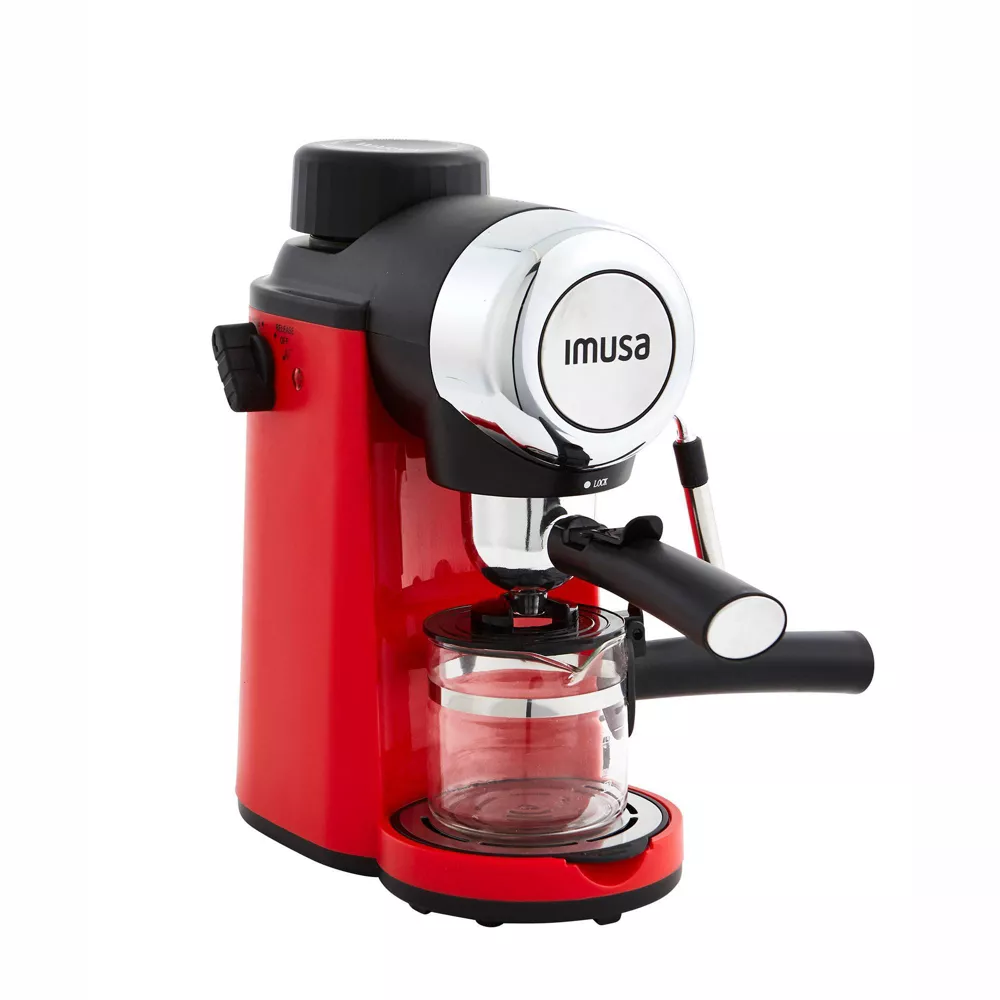 In today's fast-paced world, coffee has become an integral part of our daily routine. If you're an espresso enthusiast looking to savor the rich aroma and intense flavors of authentic espresso in the comfort of your home, the Imusa Espresso Machine might just be a perfect choice. In this comprehensive review, we'll delve into the features, specifications, pros, and cons, and why you should consider adding this machine to your kitchen arsenal. If you want to understand the tradeoffs on espresso machine types, check out our guide to different espresso machine types.
Imusa Espresso Machine Overview. 👋
The Imusa Espresso Machine is a sleek and compact espresso maker designed to deliver cafe-quality coffee without the hassle. Boasting a powerful 800-watt heating element and a 4-cup capacity, this machine is perfect for individuals, small households, or even office spaces. Crafted with a durable stainless steel exterior and equipped with an easy-to-use control panel, the Imusa Espresso Machine combines functionality and style effortlessly.
Key Specifications 🔢
Power: 800 watts
Capacity: 4 cups
Material: Stainless steel
Control Panel: Intuitive and user-friendly
Pump Pressure: 15 bars
Frothing Capability: Yes
Removable Drip Tray: Easy to clean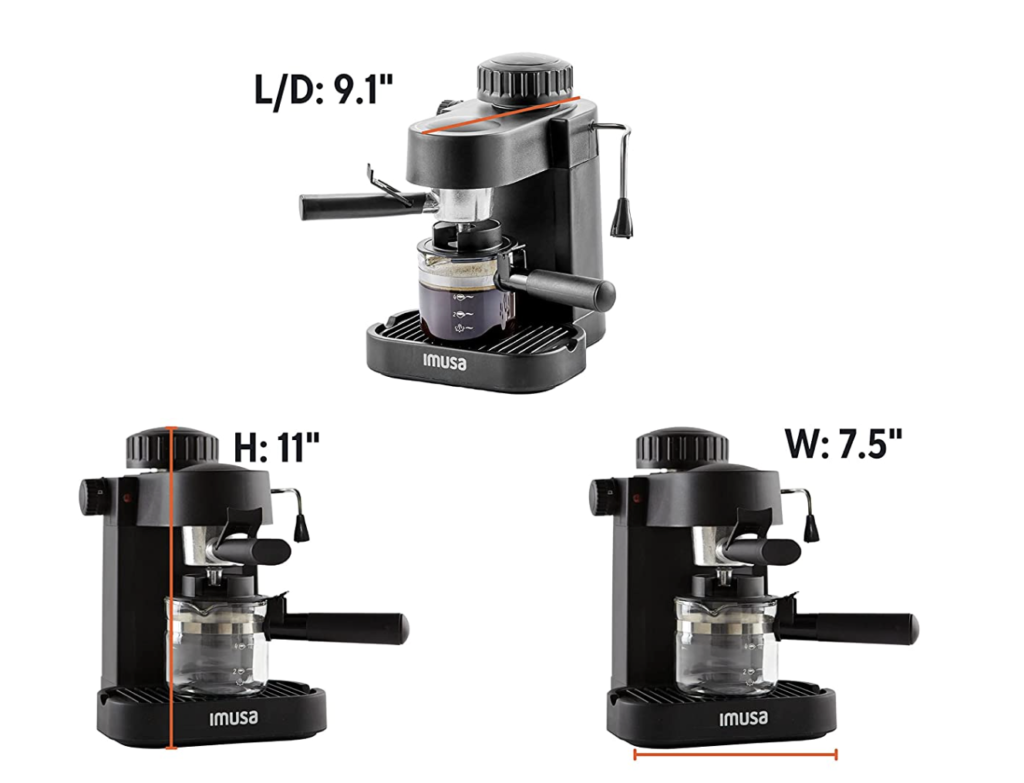 Pros of the Imusa Espresso Machine ✅
High-Quality Espresso: With a pump pressure of 15 bars, the Imusa Espresso Machine ensures optimal extraction, resulting in rich and flavorful espresso shots every time. Say goodbye to weak and lackluster coffees. You can learn about how to make an espresso here.
Compact Design: Its compact size makes it ideal for kitchens with limited counter space. You can enjoy a professional-grade espresso without sacrificing precious space in your kitchen.
Easy Operation: The user-friendly control panel allows even beginners to create barista-level coffees effortlessly. Whether you prefer a single shot or a double shot, the Imusa Espresso Machine offers versatility and convenience.
Frothing Capability: The built-in steam wand enables you to froth milk to perfection, making it easy to create creamy lattes, cappuccinos, or macchiatos. Impress your guests with beautifully textured milk-based beverages. You can also make alcoholic espresso martinis!
Durability: Crafted with stainless steel, the Imusa Espresso Machine is not only aesthetically pleasing but also built to last. It can withstand daily use and offers excellent resistance against wear and tear.
Cons of the Imusa Espresso Machine ❌
Limited Capacity: The 4-cup capacity may not be suitable for larger gatherings or households. If you frequently entertain guests, you may need to make multiple batches of espresso.
No Built-in Grinder: Unlike some other espresso machines, the Imusa Espresso Machine does not include a built-in grinder. You will need to purchase pre-ground coffee or use a separate grinder to achieve the desired grind size.
Why Choose the Imusa Espresso Machine
Affordability: This machine offers exceptional value for its price point. It provides a high-quality espresso experience without breaking the bank.
Versatility: Whether you enjoy a simple shot of espresso or prefer milk-based beverages, the Imusa Espresso Machine caters to a variety of preferences. It allows you to experiment and create your favorite coffee creations.
Easy Maintenance: The removable drip tray and detachable components make cleaning and maintenance a breeze. Spend less time worrying about the cleanup and more time enjoying your delicious coffee.
Space Efficiency: If you have limited counter space, this machine's compact design is a perfect fit. It seamlessly blends into your kitchen setup without compromising functionality.
Where to Buy
The IMUSA 800 Watts Black Espresso Maker allows you to be a barista at home! You can have fresh espresso in minutes or you can create a homemade creamy cappuccino using the milk frother! The IMUSA Espresso and Cappuccino Maker is the perfect new appliance for your kitchen needs.
Conclusion
The Imusa Espresso Machine offers a fantastic entry point for coffee lovers seeking a reliable and affordable espresso maker. With its compact design, user-friendly operation, and impressive brewing capabilities, it delivers delicious espresso with ease. Want to see a similar machine? Check out the Laekerrt Espresso Machine too! If you want a manual machine, try the Bialetti Moka.
---
Disclosure: Our reviews are made by a team of experts before being written and come from real-world experience. Some of the links in this article may be affiliate links, which can provide compensation to us at no cost to you if you decide to purchase the item.